Becka's Hottie of the Week
Now that I have a bunch of new shows that I'm watching this fall on TV, I have a new crop of men I'm watching (and drooling) over. :P Like this man, the man I chose for this week's Hottie. Of course, he's not entirely "new" to me. He's also on HBO's hit mini-series, Band of Brothers. Who is this man? Mr. Damian Lewis.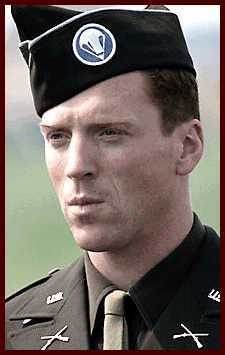 Now, if you haven't watched Band of Brothers, go rent it/netflix it/buy it right NOW!!! It's an EXCELLENT series that follows Easy Company of the 101st Airborne throughout WWII, and it is just amazing. This is where I first "met" Damian (who plays Major Richard Winters), and I must say, I never knew how red his hair was until recently.
Mr. Lewis stars in a new TV show called "Life" on NBC. It doesn't offer anything "new" to the viewing world, other than a quirky main character who's pretty darn likeable, and is actually one of the sexiest red-headed men I know.
True, Damian isn't the World's Hottest Man, but he has these mannerisms and coy grins that make your insides melt. I don't know what it is about him. Did you know he's British? Yup, just like
Hugh Laurie
, Damian puts on one hell of an American accent. Wow, is all I gotta say. In fact, his accent was so good, his CO-STARS on Band of Brothers didn't believe he was a Brit. Funny, eh? Like I've said once before, we love Britain.
Congratulations, Damian Lewis. You're Becka's Hottie of the Week!
~~Becka
http://www.RebeccaGoings.com