No, not by:
Although I wish!! But by JoAnn at the:
LOL
The Hillsboro Argus is a local paper that's mailed to every home in Hillsboro. So in that way, it's "better" in my community than the Oregonian, which people have to pay to have delivered. The Argus is a very thin paper that's free and comes in the mail. And while it's true, many may throw it away as junk mail, use it as kindling, or line their bird cage with it, there are still many more who read it. :)
JoAnn was a very nice woman; she came out to my house and took some pictures of me at my desk and a pic of me "reading" one of my books on my deck. We chattered for about an hour and a half while she scribbled notes and whatnot. It was really great.
The funny thing is, I've never really talked about myself as a writer to the people I know around town, so no one knows what I do. I've just never been one to brag about how great I am. **snort** LOL But I know for a fact the people who own the Karate dojo my kids go to read the Argus because the owner wrote them an article once as a freelancer. And I have a few other friends in the community (mostly at grocery stores lol) who have no clue either. So it will be kind of cool to see if anyone actually knows who I am when they read the article. Probably not. Heheh It's not like I have this entire "secret" life that I live. :P
Perhaps I'm the reverse of Clark Kent. LOL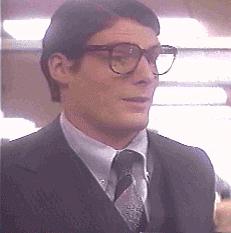 When he's got the glasses on, he's the "nobody". But DON'T REMOVE THOSE GLASSES OR YOU'LL RECOGNIZE HIM!! Hahahah! I'm the other way around. I don't wear glasses when I'm "Jane Housewife". But when I'm on the computer writing, I do have prescription reading glasses that I have to wear lest my eyes will cross. :P So perhaps my "power" as "Rebecca Goings the Author" are in these glasses. I put them on and "Jane Housewife" disappears.
Hmm...
~~Becka